Learn about changes to government programs and available supports as your business recovers from COVID-19.
Reopening guidance
Skip to more guidance for employers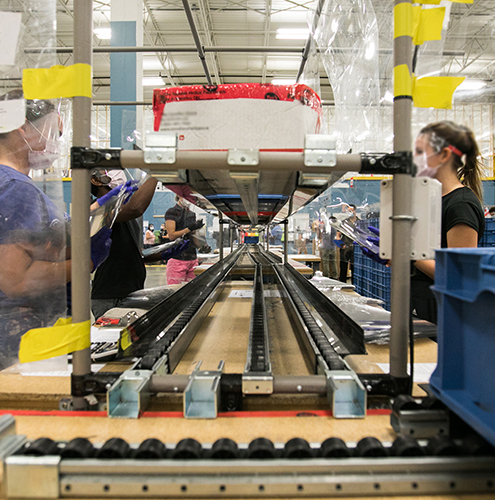 Financial relief
Affordable electricity bills

Until October 31, 2020 time-of-use Regulated Price Plan customers will pay a COVID-19covid 19 Recovery Rate of 12.8¢/kWh 24 hours a day, seven days a week.

From March 24 to May 31, 2020, residential, farm and small business time-of-use customers were charged the lowest rate — also known as the off-peak price — 24 hours a day. This means you were charged 10.1¢/kWh no matter what time of day you use electricity. This rate has automatically been applied to your bill.

Pausing commercial evictions

We are temporarily stopping or reversing evictions of commercial tenants and protecting them from being locked out or having their assets seized during COVID-19covid 19. This applies to businesses that are eligible for federal/provincial rent assistance, for evictions from May 1, 2020.

It does not apply to those participating in CECRA for small businesses.

Pension contribution deferral and extension

Deferring contributions

If you're an employer who sponsers certain defined benefit pension plans, you can defer pension contributions due between October 1, 2020 and March 31, 2021. You must file an application (called an "election") and pay deferred contributions, with interest and following a set schedule, by March 31, 2022.

For contributions to be eligible for deferral, plans must:

be single-employer, private-sector defined benefit pension plans
not already benefit from existing special relief measures

You can only defer contributions if they are up to date with any existing contribution requirements.

To ensure you use the funds made available by deferring contributions to maintain your business operations, you will be restricted from:

paying out dividends or buying back shares
increasing previously established debt repayments
increasing executive compensation or paying executive bonuses
making loans or advances to shareholders or executives or entities related to them
engaging in business that provides advantageous terms to a related party, such as a parent company

These restrictions will no longer apply after you've made all deferred contributions.

Catch-up contribution extension

As in any year, you may be required to make a catch-up contribution after a valuation report is filed for your pension plan, depending on how much was contributed to the plan before the report was filed.

You have 120 days (instead of the usual 60 days) to pay any catch-up contributions on valuation reports filed on or before April 1, 2020. You do not need to submit an election (application) to get the extension.

Find out more information on pension contribution deferrals, restrictions and how to apply.
Tax relief
Employer Health Tax relief

We increased the Employer Health Tax (EHT) exemption for 2020 from $490,000 to $1 million.

What this means for you

As an employer, this means relief of up to $9,945.

The annual tax return form is not changing. Only the amount for the exemption claimed will change. Eligibility for the tax exemption, tax rates and everything else remains the same.

You will begin making your instalment payments after your payroll has exceeded the new $1 million exemption level.

If your business no longer needs to make instalment payments as a result of the increased exemption amount, you do not need to notify the Ministry of Finance.

If you have already filed a final or special return for 2020

The ministry will be reviewing all 2020 Employer Health Tax relief returns and correcting the returns for the new exemption level.

Regional Opportunities Investment Tax Credit

If your corporation is building, renovating or acquiring an eligible commercial or industrial building in a designated region in Ontario, you may be eligible to claim a tax credit of up to $45,000 in a year.

The tax credit will be available to claim on your corporate income tax return.

Learn more about the tax credit and if your project qualifies.
Help from the federal government
The Canadian government has made available supports for business during COVID-19covid 19.
Mental health and addictions supports
If you or your employees are feeling anxious, experiencing other mental health or addiction challenges or you can't access your regular in-person counselling support, there are services you can access online or by phone, including self-led support, peer support and internet-based cognitive behavioural therapy.
Find mental health support
If you are currently receiving mental health and addictions services and supports, please contact your current service provider, including community-based mental health and addictions agencies. Many of these providers are modifying their services to move towards virtual care, meeting clients by phone or secure video-conferencing.
How you can help
!Cut red tape for your business
We want to hear from you on the issues you're dealing with as a business owner or representative. Tell us how we can reduce the regulatory burden to help make your business more competitive and support your investment in Ontario.
---