Friday, February 18, 2022, Ontario expanded booster dose eligibility to youth aged 12 to 17. Appointments can be booked through the provincial booking system and the Provincial Vaccine Contact Centre, as well as at select pharmacies administering the Pfizer vaccine. Appointments will be booked for approximately six months (168 days) after a second dose. To book an appointment online, these individuals must be 12 years old at the time of appointment.
This page is currently being updated to reflect these changes. For more information, please read the news release.
Learn about Ontario's vaccination program to help protect us against COVID‑19.
Book a vaccine
If you still need your first or second or booster dose, book now.
Call the Provincial Vaccine Contact Centre at 1-833-943-3900 to book over the phone. This line is available 8:00 a.m. to 8:00 p.m., 7 days a week.
---
Doses administered in Ontario
All data reflects totals from 8 p.m. the previous day. Last updated on May 16, 2022 at 10:30 a.m.
Daily doses administered
6,658
---
Total doses administered
33,104,203
---
People fully vaccinated
12,186,757
---
---
Getting vaccinated
Vaccines are safe, effective and the best way to protect you and those around you from serious illnesses like COVID‑19. Anyone born in 2016 or earlier is eligible to get a first and second dose.
Read about: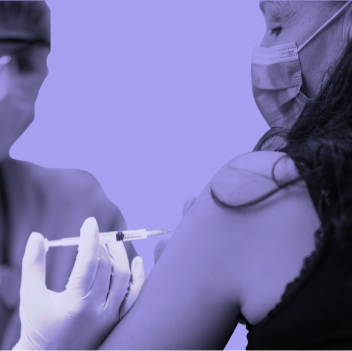 ---
How to book an appointment
Your options for scheduling a vaccination will depend on which dose you need, where you want to get vaccinated and your public health unit's local vaccination plan.
Mass immunization clinic

Online

Enter some information to find out how to schedule your appointments online.

Book online

By phone

Call

1-833-943-3900

(available in over 300 languages)

Participating pharmacy

Book an appointment directly with a participating pharmacy.

Most pharmacies book appointments ahead of time and some allow walk-ins.

Find a pharmacy

Pop-up or mobile clinic

Your local public health unit (PHU) can tell you where and when pop-up or mobile clinics will be in your community and if you need to book an appointment.

Find your PHU GO-VAXX bus schedule
---
What can we help you with?
---
After getting vaccinated
It takes about 2 weeks after you are vaccinated for your body to gain protection from COVID‑19.
Follow the latest public health advice

Whether vaccinated or not, stay home if you have symptoms

Wearing a mask for greater protection is encouraged for those at higher risk for severe illness, including people who are older, people with certain medical conditions and those who are pregnant or have recently given birth

Always follow good practices like washing your hands and covering your coughs and sneezes

Take a self-assessment to help you decide if you need a COVID‑19 test
For more information, read Canada's public health guidance for vaccinated individuals.