Page archived
This page is no longer current and is provided for archival and research purposes.
Ontario's official mobile application for businesses to scan COVID-19 vaccine certificates.
The Verify Ontario app ended June 24, 2022.
The app is no longer available in the Google Play and Apple app stores. If you still have a downloaded version of the app, it will not scan QR codes and is no longer supported with updates.
Who the app is for
Ontario no longer requires businesses and organizations to check for proof of vaccination effective March 1, 2022.
Verify Ontario is an app for businesses and organizations that provides a quick, easy and secure way to scan COVID-19 proof of vaccination.
Businesses and organizations may voluntarily choose to check for proof of vaccination and may use the Verify Ontario app to scan for proof of vaccination.
The app is not for storing or downloading your proof of vaccination. To download your vaccine certificate with QR code, please visit ontario.ca/getproof.
Technical requirements
You must use:
The app:
requires camera access to work
updates automatically when the device is connected to the internet
can be used without an internet connection to scan most government-issued QR codes, but you must connect to the internet every week for the latest content and rules
takes a few seconds to read QR codes on older devices with older processors or cameras
How it works
The app:
accesses a device's camera with permission to scan vaccine certificates with government-issued QR codes
quickly scans a visitor's QR code, which can be a physical copy they've printed or a digital copy on their mobile device
displays a result page verifying a person's COVID-19 vaccine certificate with QR code
protects privacy by only collecting anonymous data for metrics and does not save or track personal information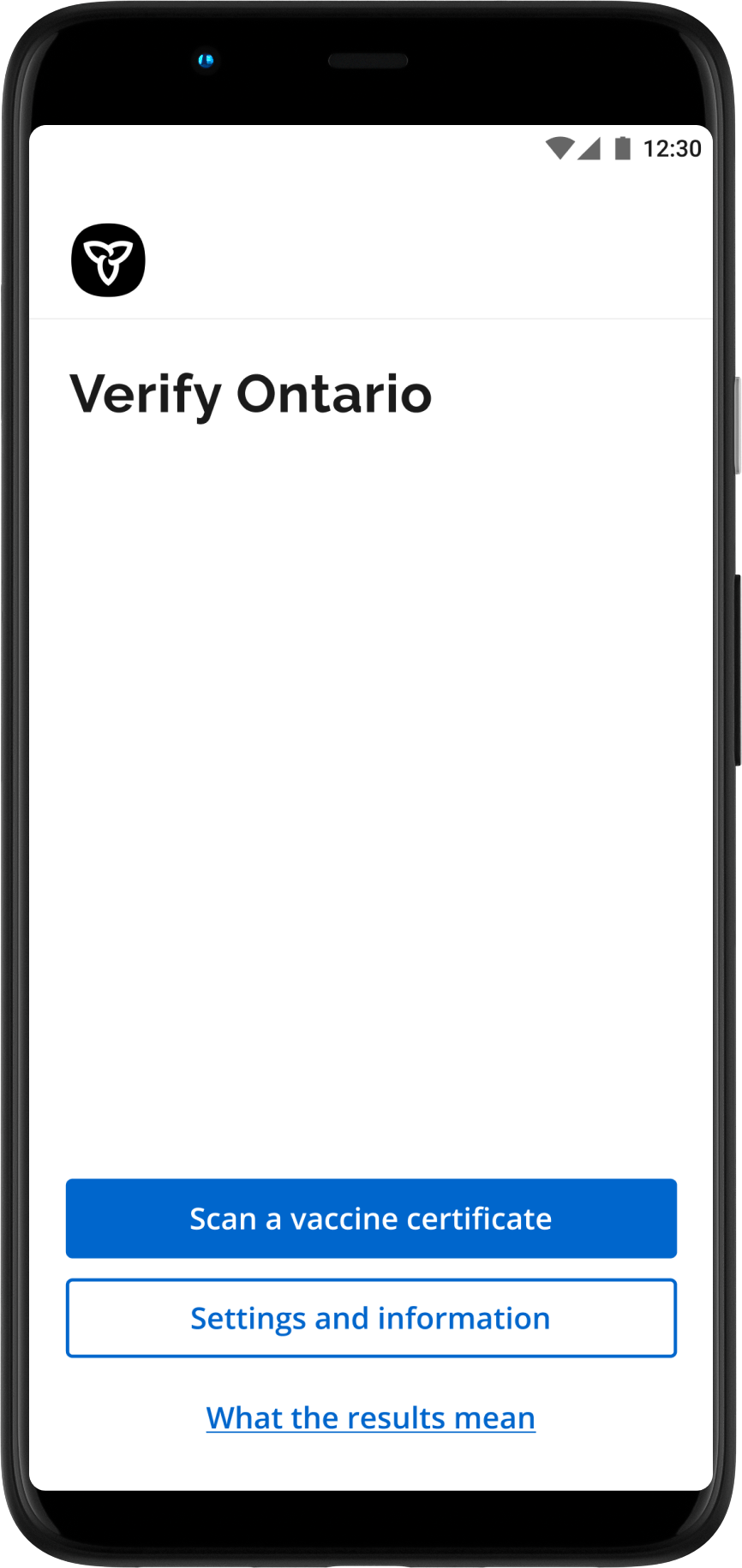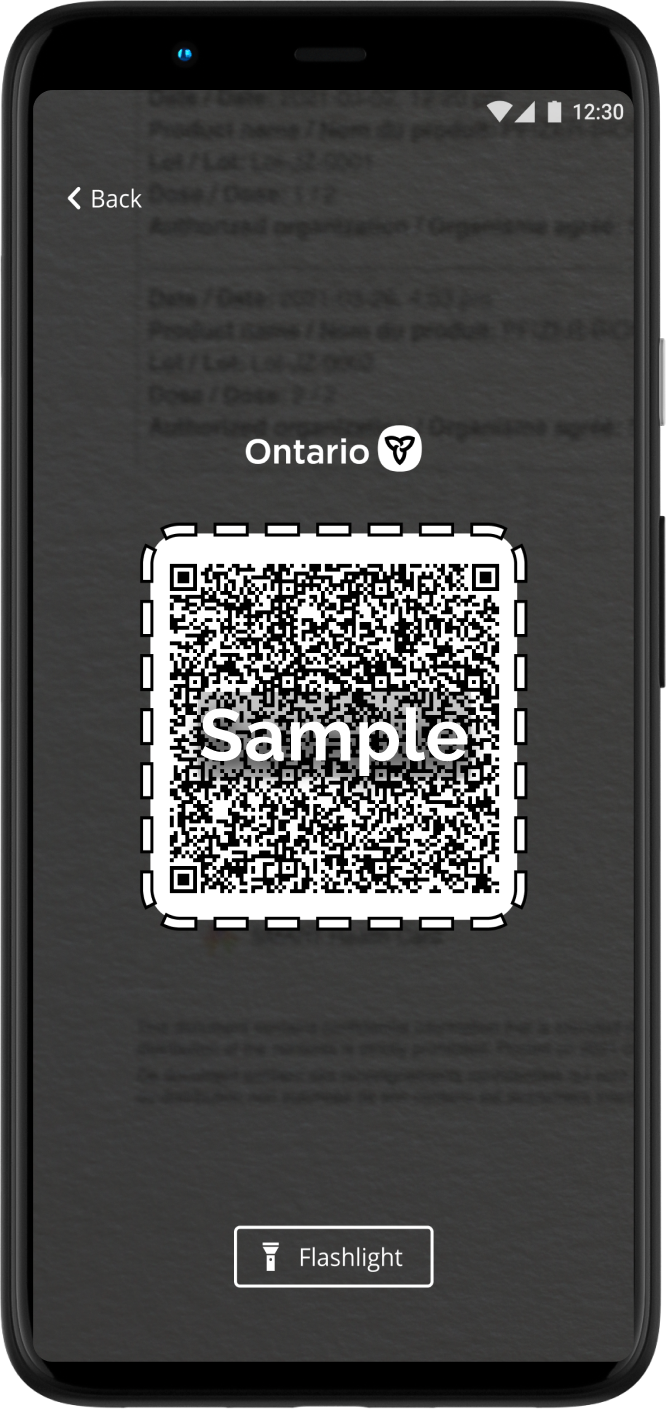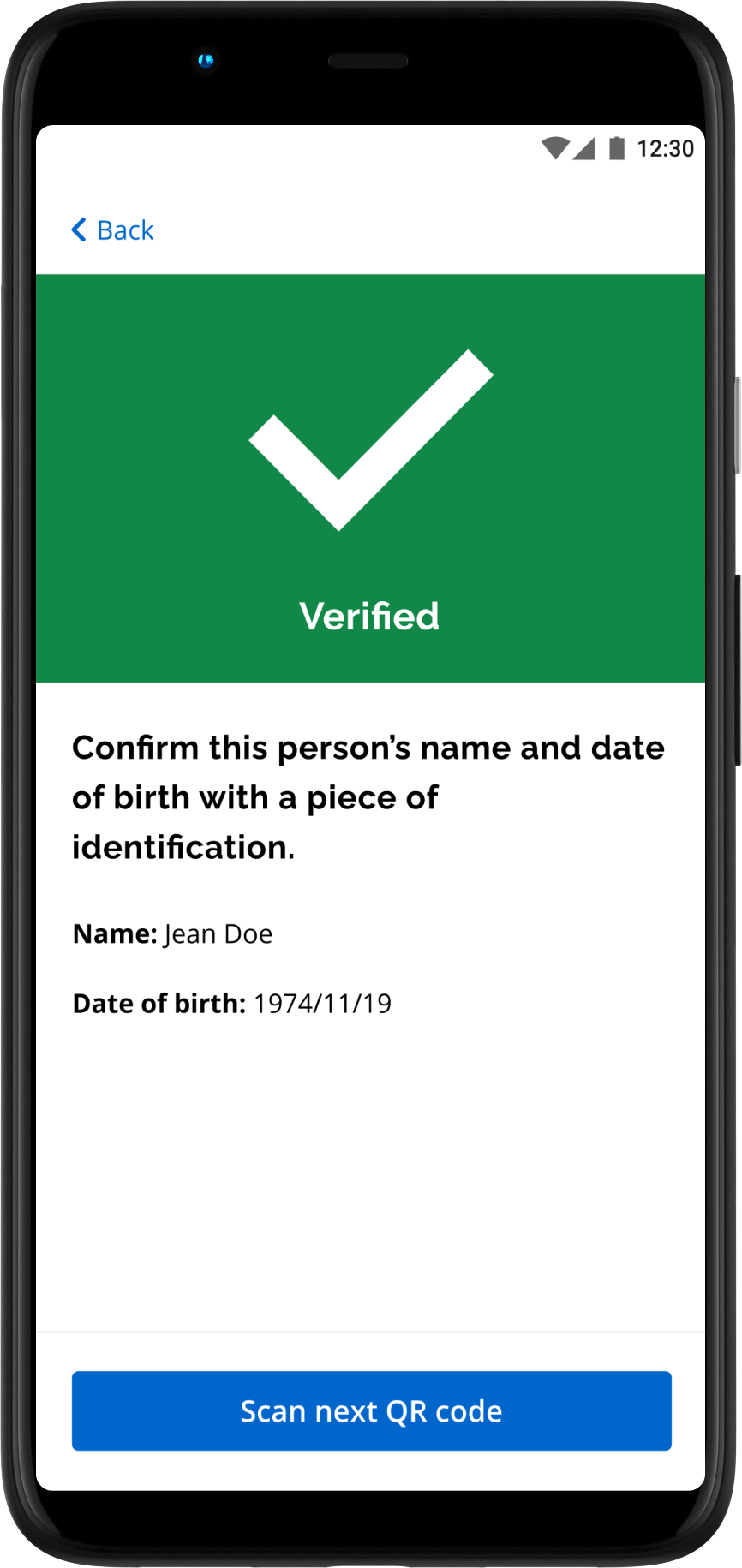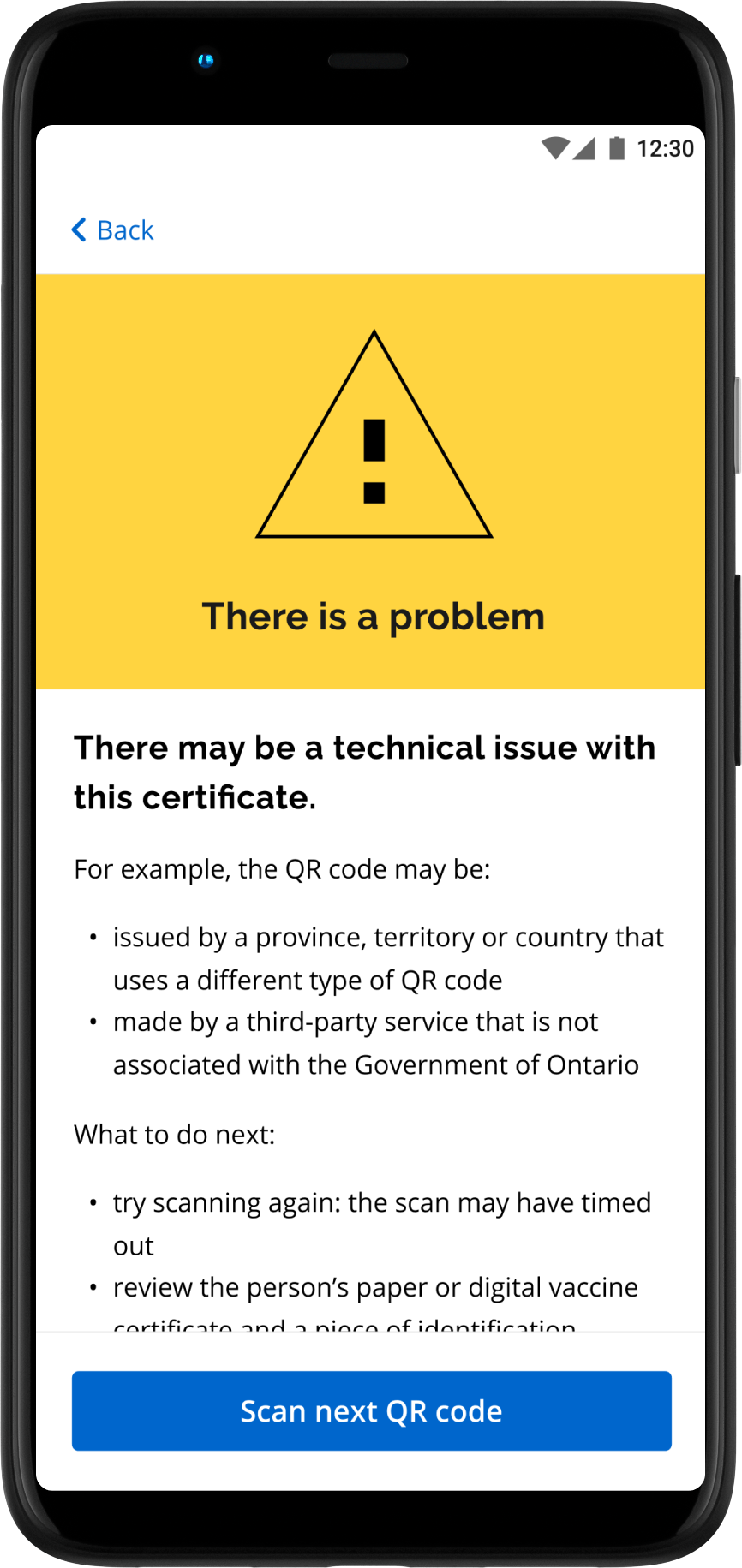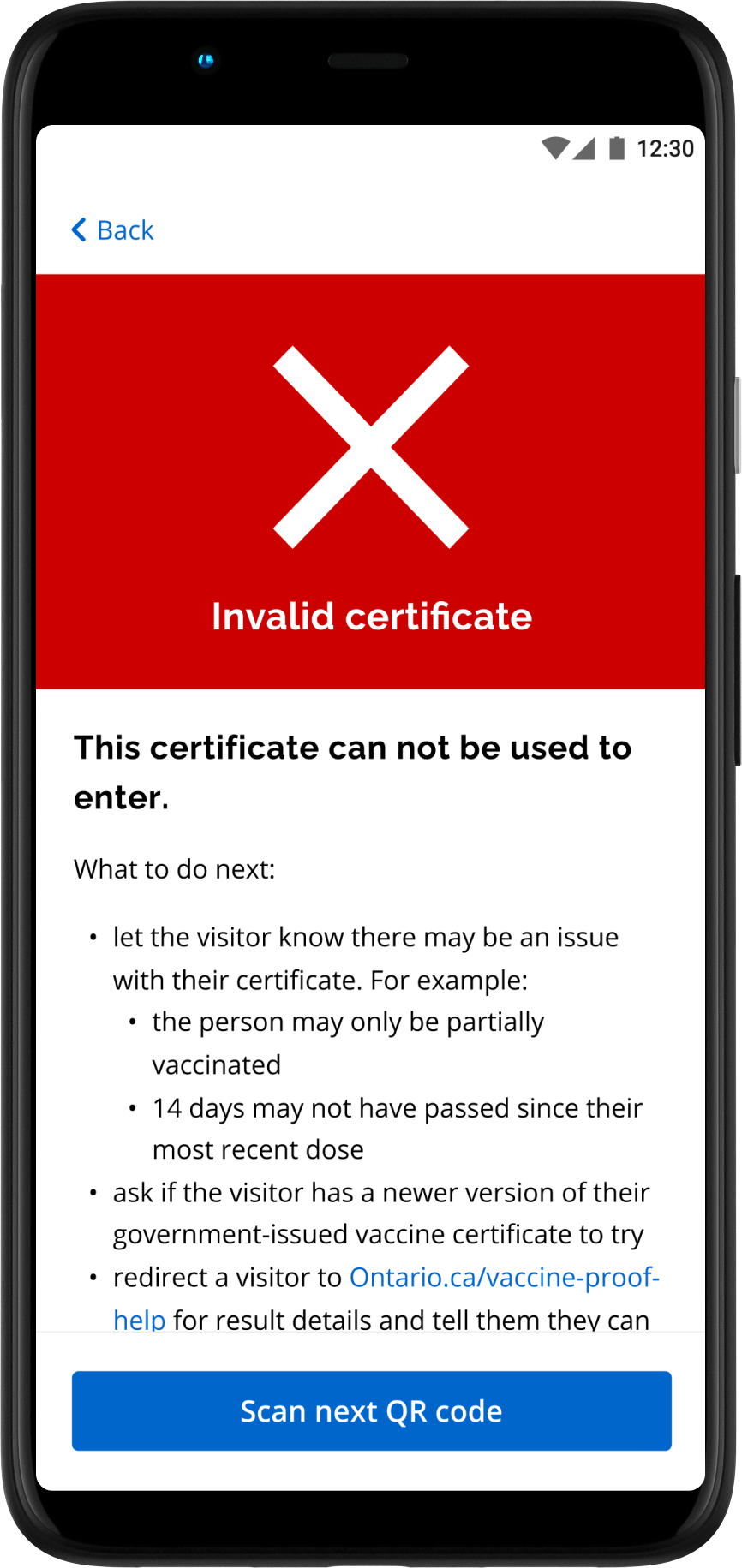 How to scan a vaccine certificate
Follow these steps:
Open the Verify Ontario app on your device.
Ask visitors to show a paper or digital, government-issued vaccine certificate with a QR code.
Scan the QR code with the device's camera.
Follow the instructions displayed on the result screen.
If the proof of vaccination is verified with a green checkmark screen, you can confirm the visitor's ID.
Learn more about what the results mean.
Accepted forms of proof of vaccination
The Verify Ontario app will scan and verify:
Ontario-issued

Smart

® Health Card QR codes on vaccine certificates, including those provided to individuals with eligible medical exemptions or who are participating in a Health Canada approved clinical trial

Smart

® Health Card QR codes issued by another Canadian province, territory or health authority including:

Alberta
British Columbia
Manitoba
New Brunswick
Newfoundland & Labrador
Northwest Territories
Nova Scotia
Nunavut
Prince Edward Island
Quebec
Saskatchewan
Yukon
Canadian Armed Forces
Global Affairs Canada

Other

Smart

® Health Card issuers part of the Common Trust Network:

Cayman Islands Health Services Authority
Connecticut Department of Public Health
Delaware Immunization Program
Government of Puerto Rico
Illinois Department of Public Health
State of California
State of Colorado
State of Hawaii
State of Louisiana
State of New Jersey
State of New York
State of Utah
Sydney Local Health District
Virginia Department of Health
Washington State Department of Health
More health authorities will be added to the app as soon as possible.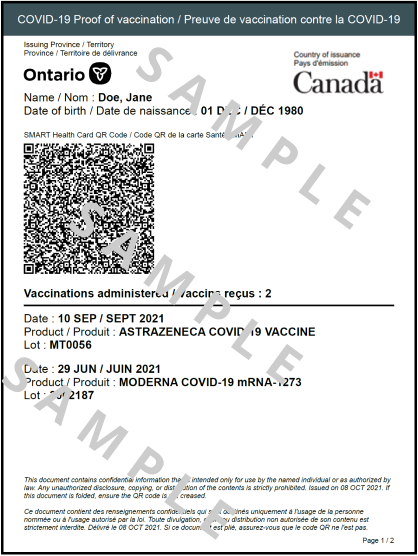 The app will not verify
QR codes created using a non-government website or app
QR codes issued by health or government institutions that do not follow the

Smart

® Health Card QR code standards
The app displays a yellow warning results screen if the QR code:
does not meet

Smart

® Health Card QR code standards
Is a valid

Smart

® Health Card QR code, but is not yet recognized by the app
is issued to a child under the age of 12, or who turned 12 within the last 12 weeks (84 days)
Visitors can go to:
Data collection and privacy
For privacy and security:
verified vaccine certificate results are displayed for 30 seconds and then deleted
only trusted

Smart

® Health Card QR codes will scan as verified and display a green check mark screen
the app does not request the user's location or save any information that links specific locations, visitors or businesses to each other
no personal health information is displayed or shared, only the information that is required for QR code verification (result with name and date of birth to confirm an individual's ID)
the app only collects anonymous statistical data (analytics) that help us improve the app, including the total number of scans and the number of valid, invalid, or warning results
for transparency and security we will share the app's code in GitHub and have adopted a vulnerability disclosure policy
Learn more in the app's Terms of Use and Privacy Statement.
Give us feedback
We want to learn about your experience.
Businesses, organizations and individuals can contact us through our page's webform (anonymous).